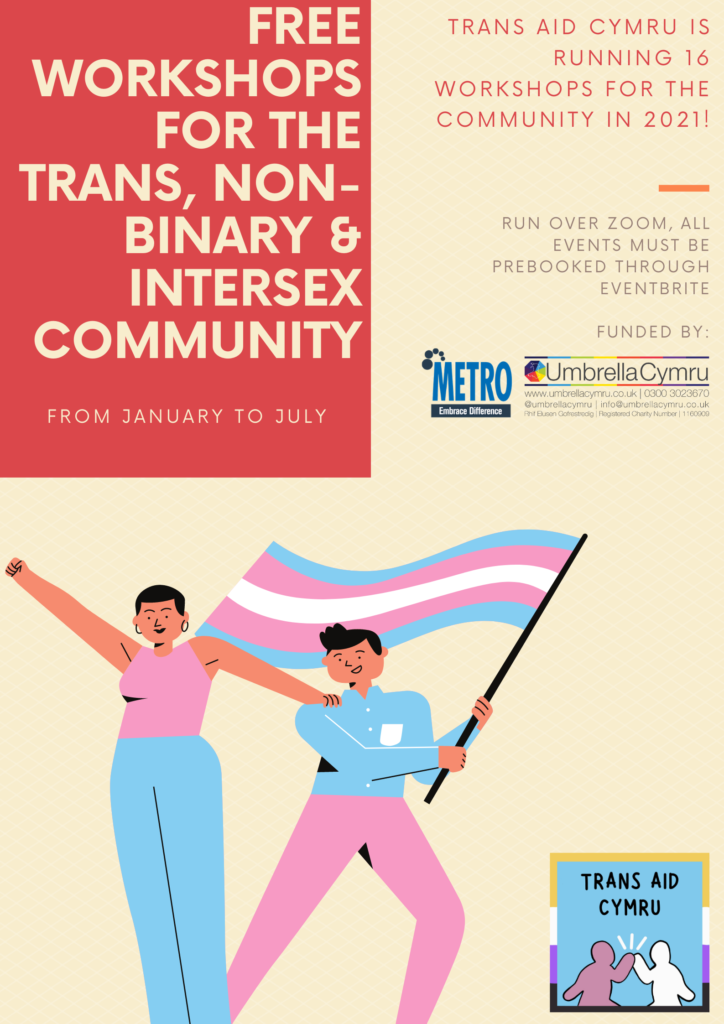 WORKSHOPS
Funded by Umbrella Cymru and METRO Bank we're running a series of free workshops throughout 2021 aimed towards the TIN community!
---
What can I expect?
From January to July we are running at least three workshops each month! These range from art based workshops, to practical skills that can help you through your transition and everyday life.
All the workshops will be moderated by TIN members of the community, and we require prebooking through Eventbrite. The Zoom link will be emailed out before the event. Signing up is important to make sure you can enter the room. You don't have to join in on webcam, we welcome people to join in the chat! (Trans Life Drawing does require camera use at the start for safeguarding reasons) If you have any questions or concerns about the workshops shoot us an email at [email protected]
LEARN FROM HOME!
As part of our workshop scheme we have recorded some workshops and made guides to go with them! We know life is busy so if you missed a workshop or want to revisit it you can out the resources we have here!
---
Is it safe?
These online resources have been funded by Umbrella Cymru and METRO Bank as part of our workshop series for 2021!
Everyone who worked for these workshops and courses have been fully paid for their time. This means we've been able to support members of the TIN community while also supporting people through the workshops. To see recordings of the workshops and attached guides click the link below!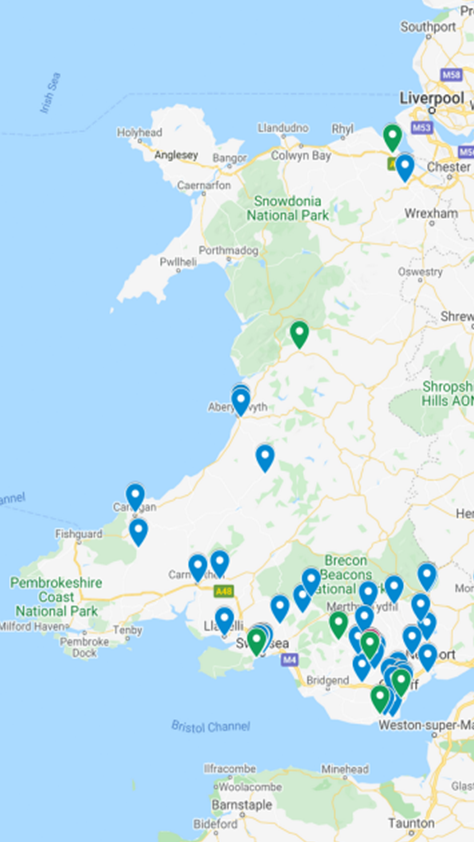 WALES TRANS FRIENDLY GP MAP
Our trans friendly GP map aims to help transgender and non-binary folk find a GP near them that will be affirming and trained in the new Welsh Gender Clinic pathway.
There are a few different types of markers on here and some of them are colour coded. All positive reviews are in blue, negative reviews are marked with red. The green markers are locations of the Local Gender Team. The Local Gender Team are trained by the Welsh Gender Service (WGS) and will know how to prescribe hormones once you have been seen by the WGS. They may not all be GPs, but it's handy to know where they are located as you may see them during your transition.
You may also see that some practices or GPs have recommended by Quinney in their notes. This means Dr Sophie Quinney has vouched for them being trans and non-binary friendly. Dr Quinney has been training GPs in the new WGS pathway and is a great ally to trans healthcare.
---
WANT TO ADD YOUR EXPERIENCES?
Please contact us to let us know about experiences you've had with your GP! We want to hear about the good and the bad! It's important for us to hear about varied experiences from trans and non-binary people to build an accurate picture of which GPs will be understanding and provide good quality medical care free of discrimination.
Penpal Scheme
We started up a penpal scheme for trans, intersex and nonbinary people during the coronavirus pandemic. It connects isolated TIN people in Wales with other TIN people and allies through a penpal scheme. If you are interested in signing up, either as a ally or a member of the TIN community please email: [email protected]
---
Is it safe?
We run three levels of safeguarding available to the people using this scheme:
Full Interception: Both of the parties communicate through the third party email address and emails are saved and monitored. You do not have to provide your email to a stranger.
CCed Monitoring: By CCing the penpal team into the email chain we are able to save and monitor emails. This will involve you sharing your email with your penpal.
No Security: You can email your penpal with no monitoring from the penpal team. If any issues come up with your penpal regarding your comfort or safety we encourage you to reach out to the team.
If you have any questions about these just let our team know!